MRI Exam Prep
Find out when you book
What is an MRI?
Magnetic Resonance Imaging (MRI) is a non-invasive medical test that helps healthcare practitioners diagnose and treat medical conditions.
An MRI is the most advanced form of medical imaging available. It is safe for everyone since it uses a magnetic field instead of ionizing radiation.
Radiologists and healthcare practitioners use MRIs to diagnose conditions in the brain, spine, bones, joints, abdomen, breast, blood vessels, heart, soft tissue, prostate and other parts of the body.
The images created by MRIs are much more detailed than traditional technologies such as x-rays. This gives our radiologists a very clear view of injuries and conditions and helps determine the most effective treatment plan.
How does an MRI work?
An MRI scanner is a large, doughnut-shaped magnet that uses the interaction between a magnetic field, radio waves, sensors and a computer to create very detailed, precise images of the body.
The strength of the magnet is measured in Teslas (T). MIC now offers scans on 1.5T MRIs and the very latest in MR technology: the Siemens MAGNETOM Vida 3T MRI.
Why choose MIC for your MRI?
MIC has Alberta's most advanced MRI technology in our community-based clinics. We are the first imaging provider in the Edmonton area with a 3T MRI and the first radiology group in Alberta to offer both 1.5T and 3T MRIs.
Every image is reviewed by MIC's expert radiologists. These are the same radiologists who interpret thousands of MRI scans each year at the University, Stollery, Mazankowski, Royal Alexandra and Grey Nuns hospitals.
Our 1.5T MRIs
MIC has been performing MRI scans in our College Plaza Sports Imaging Clinic since 1998. We've put hundreds of professional athletes and weekend warriors back on their feet with an MRI and expert diagnosis from our radiologists.
We opened our second MRI suite at Century Park in 2007 which allowed us to help more patients to take control of their health.
1.5T MRIs produce excellent images and are the standard-of-care in hospitals and community clinics across Canada.
Watch Video
Our newest addition: 3T MRI
MIC is now home to Edmonton's first 3T MRI in a community-based clinic.
The Siemens MAGNETOM Vida 3T MRI is a game-changer, providing images that are 'stunning' according to our radiologists.
Located at our Century Park clinic, the Vida 3T allows us to expand our service offerings again.
We can now offer both breast and prostate MRIs in addition to a full range of neurological, vascular, musculoskeletal and soft tissue scans.
The 3T MRI is twice as powerful as the 1.5T, producing better images in less time. It is a significant step forward in medical imaging.
The future of MRI is here.
Learn more about our Siemens MAGNETOM Vida 3T MRI.
What is the cost?
MRIs performed in community-based clinics are not insured by Alberta Health Care Insurance.
At MIC, the cost varies depending on the exam requested by your healthcare practitioner and whether your scan will be performed on a 1.5T MRI or a 3T MRI.
Some extended health benefit programs or health spending accounts may include MRIs as eligible costs. It is up to you to pay for the exam and then submit any claims for reimbursement.
Booking information
Our MRI booking staff are specially trained to determine which scanner is best for your exam. They will book your appointment for either a 1.5T or 3T MRI scan. Our radiologists will review your requisition form to ensure you are booked on the right scanner before your exam takes place.
The following scans will only be performed on the Siemens Vida 3T:
| | |
| --- | --- |
| Type of MRI | Body area to be scanned |
| Neuro | Brain (seizure, sella, concussion) |
| | Brachial Plexus |
| | Lumbar Plexus |
| Bone & Joint | High resolution hips |
| | Long bones |
| | Fingers |
| | |
| Body | Breast |
| | Thoracic |
| | Abdomen |
| | Pelvis |
| | Prostate |
| | |
| Contrast | Contrast enhanced MR Angiography (MRA) |
All other scans can be performed on either the 1.5T or the 3T.
Price guide
The price varies depending on the type of scan and whether it takes place on a 1.5T or 3T scanner. Our MRI booking staff will provide you with the exact cost when you call to book your appointment.
To give you an idea, scans on our 1.5T and Vida 3T start at $650.00.
View More
For more patient information on MRI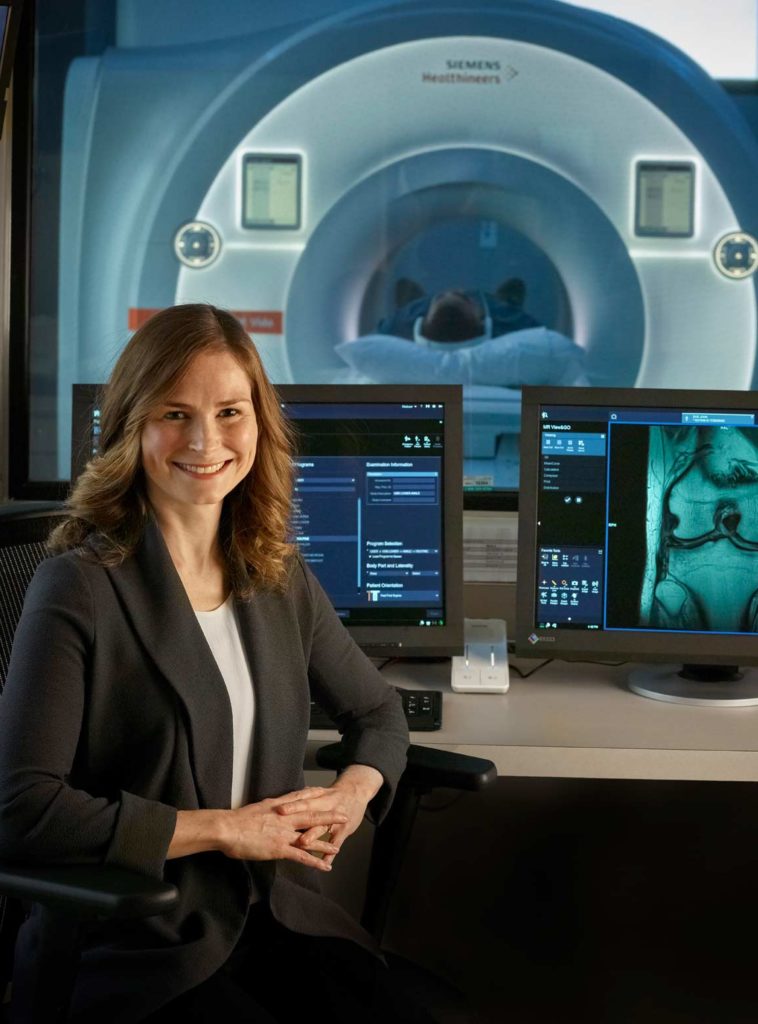 What to expect
You will need a requisition form filled out by your healthcare practitioner for an MRI.
When you call to book your appointment, our booking staff will go over any special instructions with you. Generally, MRI requires very little preparation.
Please arrive 15 minutes before your appointment. Depending on the area being scanned, you may need to change into a gown. You will be asked to remove anything containing metal such as jewelry, piercings, dentures or hearing aids.
For some MRI scans you will be given an injection of contrast dye. This makes tissues and blood vessels show up in greater detail.
Our technologist will position you on the scanner table. The technologist will put a coil or sensor over the body part we are scanning. The coil generates information the computer uses to create digital images.
The MRI scanner will make loud knocking noises during your scan. Our technologist will give you headphones to help block most of the noise.
Our technologist will move the scanner table so the part of your body being scanned is in the centre of the magnet.
The technologist will be in the control room during your scan. They will monitor you and check in to make sure you are comfortable. You will also have a call button to talk to the technologist.
During the MRI scan you will be asked to lie very still. Most MRI scans take 20 minutes, but some take longer to finish.
Some people may find the MRI machine makes them feel claustrophobic. If you are concerned about this, your healthcare practitioner may be able to prescribe a sedative to help.
An MIC radiologist will review your scans and provide a complete report to your healthcare practitioner, usually within 24 hours.