Private MRI in Edmonton, Alberta
Private MRI has been a part of MIC since 1998. We use the most advanced medical technology in our clinics so our subspecialized radiologists can do their jobs to the absolute best of their ability.
We were the first diagnostic imaging provider In Northern Alberta to offer 3T MRI scanning at our Century Park clinic in 2018. Once again, we are pushing the boundaries in our industry by investing in an additional 3T MRI unit, which is now operational at our Terra Losa location.
Cumulatively, we now offer MRI with three different scanners – two 3T units and one 1.5T unit. Since we have the most scanners in Northern Alberta, specialized technologists to assist in machine operation, and the most subspecialized radiologists to interpret the imaging, we can offer convenient, next-day appointments for many exams.
Patients looking for a faster diagnosis should consider having their MRI done at one of our convenient locations.
The Most Subspecialized Radiologists
All scans on our 3T and 1.5T MRIs are reviewed by the same specialized radiologists who interpret MRI scans at world-famous institutions like the Stollery Children's Hospital, Mazankowski Heart Institute, University of Alberta, Royal Alexandra, and more.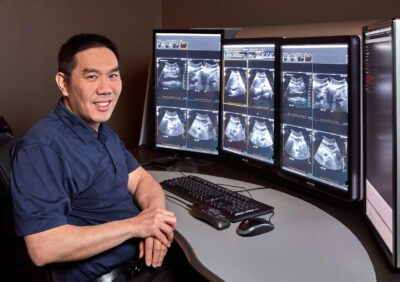 MIC's partnership has the most subspecialized radiologists in Alberta. Having the most subspecialized radiologists in the province is important for two reasons:
You can rest assured knowing the radiologist interpreting your medical images is an absolute expert in their field.


Our team can communicate and utilize in-house expertise to collaborate on unique cases and diagnose rare and the most complex conditions.
Convenient MRI Clinic Locations in Edmonton
MIC is proud to offer magnetic resonance imaging at two clinics in Edmonton:
Century Park
This clinic is located at #201, 2377 – 111 Street NW, in the Kaskitayo community just south of the Century Park Station in South Edmonton.

Terra Losa
This clinic is located at 9566 – 170 Street NW, just north of West Edmonton Mall, beside Shoppers Drug Mart.
Both locations are open Monday to Friday, from 8 AM to 5 PM. Additionally, both clinics offer free parking, barrier-free access, wheelchair accessibility and are conveniently located near Edmonton public transport stops.
Trusted by Edmonton's Professional Sports Teams
MIC is committed to improving the health and well-being of the people in our communities – including professional athletes. Some of the greatest players in the world trust the professionals at MIC Medical Imaging to provide timely and accurate diagnostic imaging so they can form a treatment plan and get back in the game.
We are proud to be the official diagnostic imaging provider to the:
In addition to the professional sports teams above, MIC Medical Imaging also provides on-call medical imaging for opposing professional sports teams in town and major events such as:
IIHF World Junior Hockey Championships
NHL bubble playoff games (2020)
FIFA World Cup qualifying soccer games
FIBA women's qualifying basketball tournament
Red Bull Crashed Ice extreme downhill ice cross
Cirque Du Soliel
The Most Advanced Technology
MIC deploys the latest and greatest from Siemens Healthineers Medical Solutions. The scanners used in our clinics are the same ones installed in local hospitals and emergency care facilities across the country.
When you visit our clinics, you will either be scanned on:
Siemens MAGNETOM Espree 1.5T MRI
Siemens MAGNETOM Vida 3T MRI
Siemens MAGNETOM Lumina 3T MRI
The Siemens line of scanners puts the concept of precision medicine to work on every exam. Our scanners can adapt protocol based on patient physiology and anatomy, making the scan more comfortable for patients with injuries or limited mobility.
Additionally, the 70 cm wide-bore openings reduce stress and help patients who feel claustrophobic in a conventional MRI. The advanced technology in these machines leads to an improved patient experience.
Private MRI Cost in Edmonton
The cost for an MRI at MIC is $850, regardless of the scanner used for your exam. Our specially trained team of technologists and subspecialized radiologists will determine whether your exam will be performed on a 1.5T or 3T MRI.
Sometimes imaging contrast is required for a proper diagnosis. If our radiologist feels contrast is needed, an additional fee of $150 will be added. Therefore, the total cost in these cases is $1,000. The need for contrast varies depending on the patient, exam, and history.
Visit our MRI page for a more detailed MRI price breakdown.
Private vs Public MRI Coverage
There is often confusion between what is considered "private" vs "public" MRI imaging.
Any MRI performed inside a hospital, such as the University of Alberta, is considered public MRI imaging. This exam is covered by Alberta Health Care insurance.
MRI exams performed outside the hospital, in a community-based clinic like MIC Terra Losa or Century Park, are considered private MRI imaging. Alberta Health Care insurance does not cover these exams. Certain benefit programs or health spending accounts may help cover a portion of the exam fee in these cases.