Access & Share MRI/CT Imaging Records Online
Imaging records and reports are stored permanently and are accessible to you at any time, from any device through the PocketHealth application.
Records can be shared online with any doctor instantly in full diagnostic quality.
Strong privacy and encryption protocols keep your medical information as secure as your banking information.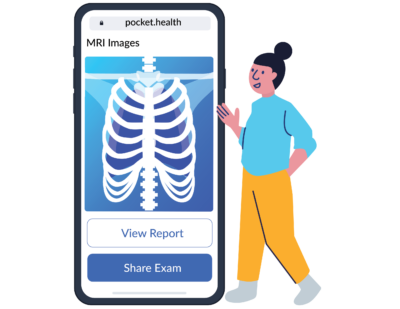 How to Enroll For Access
Provide your email address to the front desk while at the clinic

OR

contact the clinic, following your visit, to provide your email address.
Digitally sign the PocketHealth online consent form to complete your enrollment.
Recieve an access email from PocketHealth when your CTs and MRIs are ready to view. If you've had prior CT/MRI imaging completed at the clinic, this email is recieved within 24-48 hours. Recent CT/MRI imaging and reports will be available once finalized by the clinic.
Done! Share your imaging records with your doctor instantly and have full control over your medical imaging information.
Do You Have Questions?
Please contact the PocketHealth patient experience team (not the MIC clinic front desk). Their dedicated team of professionals can help you access your imaging records in no time!