Booking a medical imaging appointment can be complicated, but MIC's Central Booking team is here to help. Our dedicated professionals will help you find a convenient clinic based on geographic location and preferred time of day (morning vs. afternoon).
While some of our services have greater demand and longer wait times than others, we will work with you to book the earliest, most convenient appointment possible.
To contact our Central Booking team, patients can either:
Call our team
Submit an Online Appointment Request
Calling our Central Booking Team
The most common way to book an appointment is to call our Central Booking team at 780-450-1500 or toll-free at 1-800-355-1755 during the following hours:
Monday – Friday: 7:30 AM to 6:00 PM.
Saturday: 9:00 AM to 12:00 PM.
*Closed Sundays and statutory holidays
When you call our Central Booking department, you will be prompted to enter your Personal Health Care Number (PHN) and be placed in a queue to speak with an agent.
The queue may be longer or shorter depending on the day and time you call. Typically, our phone lines are busiest after long weekends or major holidays.
We have a very robust booking department with a significant number of agents working on any given day. However, if you are waiting on the phone for more than a few minutes, we will provide a callback option. If you agree to the callback option, we will save your place in the queue and call you back when it is your turn.
Submitting an Online Appointment Request
We also offer Online Appointment Requests. This is a great option when you don't have time to wait on hold, or are trying to book your appointment outside of our regular business hours.
This feature allows you to enter the information we need to book your exam, and gives you the opportunity to let us know what works best for you, including your preferred time, date and location.
When you visit our website, click on the Online Appointment Request button in the bottom right corner. This will start a conversation with Mika, our automated appointment request assistant.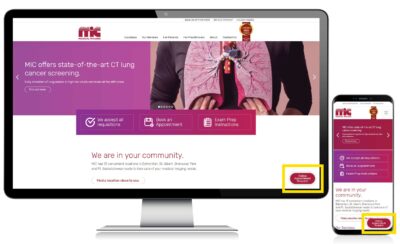 Mika will collect some personal information and give you the opportunity to upload a photo of your requisition. This step is not mandatory, but if you are able to attach a copy, it can cut down on the number of questions you have to answer and save you some time as well!
We still will need to ask:
Your first and last name
Your PHN (personal health care number)
Your date of birth
Your mobile phone number
If you have any scheduling preferences
Your referring doctor and location
Once you have entered all your information, someone from our booking team will review your request.
MIC's Live Chat Feature
If you submit your request from Monday to Friday between 8:00 AM and 5:00 PM, you will be offered the option to connect via live chat with one of our fantastic booking agents to finalize your appointment.
If it is outside these hours, or if you are fine waiting, we will send you a text message confirmation of your appointment with a link to any prep or special instructions by the end of the next business day.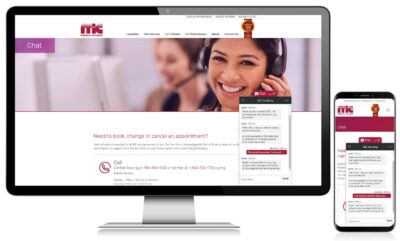 Whichever option you choose, please note that we will do our best to schedule your appointment according to your preference, but it is not always possible depending on the type of imaging you need.
How Do I Access the MIC Chat Feature?
The video below portrays a fictional patient, John Doe, submitting an Online Appointment Request for a pelvic ultrasound. John Doe uses our chat feature to confirm his appointment at our Gateway location and does not have to wait on hold or speak to a booking agent over the phone.
Please note the name, personal health care number, phone number, date of birth, requisition, and all other data provided in the video example are fictional and not associated with a real person.
Use the MIC Chat Feature for Your Next Appointment
Next time you need to book a medical imaging appointment, try our chat feature! Our booking agents can help you find the most convenient location and time of day for your desired exam. Additionally, they can answer any questions about exam preparation, availability, etc.
Put your mind to ease by chatting with a member of our team today!
Live Chat FAQs